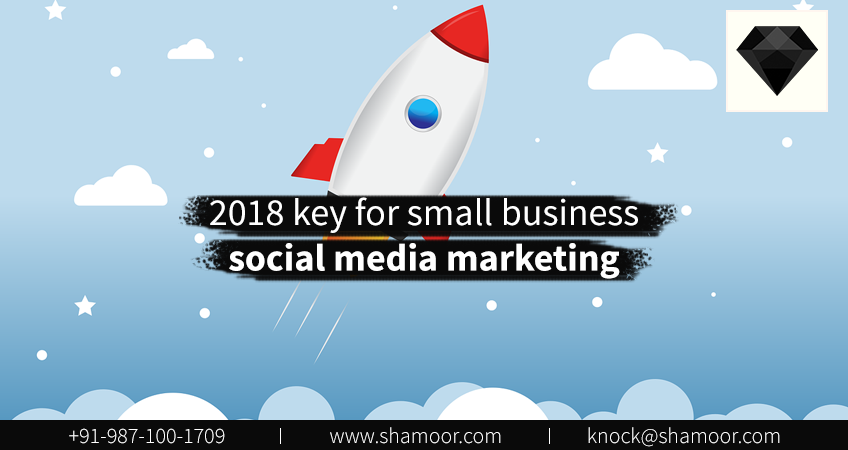 2018 key to small business social media marketing
Looking for the new opportunities as a small business owner? Want to explore the new world phenomenon of small business social media marketing? Want to be a part of a plan to grow your small business model to a bigger one? Social media marketing companies in Delhi are helping every small time business owners to create a new reach towards the targeted audience, not only locally but internationally. So, why don't you get involved in something which provides you a reason to be famous among the competitors?
Shamoor, leading social media marketing agency in Delhi, is creating opportunities for the small players to be something big in the industry. Spreading the awareness for the same, in the beginning of 2018, we will help you understand the phenomenon of 'social media marketing' which could a powerful tool for you to expand your business in this post by letting you know the small details you have to keep in mind to be successful in this strategy.
Why choose social media marketing?
You will be thinking that you could use cheaper techniques to get your job is done to be famous locally thought he pamphlet system or get advertised on local shops. But how about your business is viewable even to the farthermost corner of the world? You will be thinking how could this be possible? Social media platforms are basically involving nearly all the population of the world, & the count is only increasing. So why don't you use this opportunity to be popular?
Social media marketing agencies are working on every trick possible to make small time business owners popular among these social media platforms. There is a proper way to get publicity for your services & in turn get traffic for your business which only grows as the time proceeds. So why not invest in this strategy to taste the small business social media marketing.
There are certain things which you will lack like, lack of social presence in the beginning, lack of the social media profile with rich content attracting audience & over-processing of the posts. These are certain things which will degrade your status. When approaching the right social media marketing companies with years of experience like Shamoor, you will get to know how to eradicate these problems & have the right approach in the social media platforms.
How to be successful in small business social media marketing?
Now comes the important part to have a detailed overview about, how to be successful? You will be given the points to be worked upon & the instructions, but what you require is the projection of the idea. You require assistance on how to get the things done. So here are some things which we suggest as the social media marketing agency which could boost your business opportunities:
The first thing to focus upon is taking the matters which are possible for you to handle. There are various approaches which can be executed but how about something which is in your control & feasible for you to undertake. You will also be comfortable with the approach & will get motivation with the results too.
Make your content brighter, by increasing more entertainment & visuals than some normal promotional text. Studies prove that the human mind is more attracted towards visuals than a pretty normal text. Social media marketing companies usually work at this point & why don't you too? You can then have the attention you want to have which can make you different from the rest of the crowd thus helping your business grow.
Test on the various social media platforms to help you get to know the audience favorite for your services & invest yourself for the same. Then, you can achieve the traffic for your small time business & be active in the eyes of the public.
Always be ready to observe in the market. Learn from your mistakes & take cues from the strategies by your opponents who have successfully implemented their ideas. The innovative ideas are always near you; just get on with these things to be knowledgeable of the current scenarios.
Make use of the market analytics tools to get to know about the latest trends which are happening in your phase of small business social media marketing to plan your strategies to be executed in future.
Set your target which you want to achieve at first & after that, plan accordingly & don't plan ahead of the goals as you have to persistent to achieve which makes small goals easy & inspiring.
One last point is testing the ideas & waiting for the idea to reach the audience. Don't think ahead & have patience as it takes time to be the center of attraction. Rome was not built is a day, remember that. Social media marketing companies offer a limited time between the execution & result, so have patience, you will get what you deserve.
You might think of these points as simple & you can do it yourself. But it takes years of experience to master these points. Feeling confused? How about these things made simple for you? Shamoor is committed to providing this service for you. With the name of leading social media marketing company in Delhi, we will provide you affordable & best services you can find for small business social media marketing.
Contact us today to have your appointment booked with us to make your small business a big venture among the public.