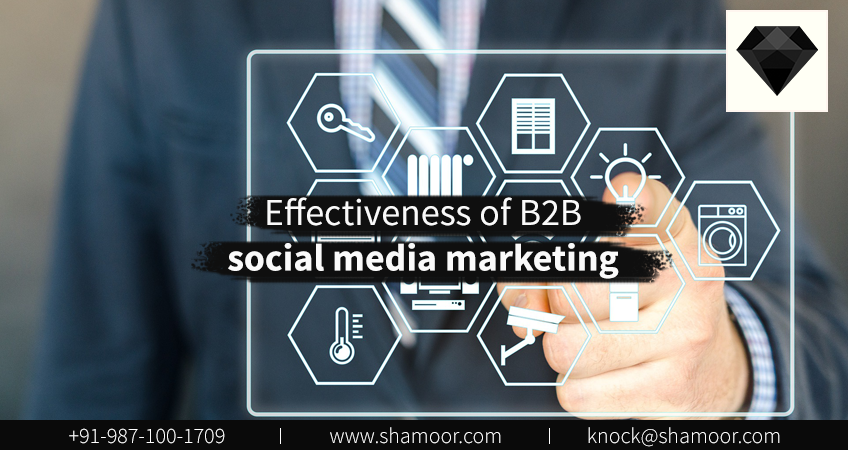 Effectiveness of B2B social media marketing
Social media marketing agencies have been the boon to the business owners, controlling both the options of B2B & B2C. Social media marketing companies have been playing an important role while directing the major part of B2B communication. Social media is not only confined to making the customers know about the products but also the business person making aware of the opportunities industry or other business owners has to offer. You should be well aware of the benefits social media marketing companies can offer to your B2B opportunities while most of the concentration of today's attention is towards social media platforms. Why not use this opportunity to develop relations?
In this blog, we will help you understand how effective social media marketing in B2B is. We will let you each & everything to think, tips for taking care of your B2B social media marketing. You will get to know a whole new perspective of the very less known importance of B2B social media marketing.
Opportunities in B2B social media marketing
There have been very fewer developments when concerned about the B2B activities. It has been one of the orthodox sections of the process which has been confined to the talks between the business owners. But one revolution has been on the door created by the social media marketing companies providing a medium where they could expand their social circle & step into more business communications that social media platforms have to offer.
You will be thinking that how can it be possible? How can social media marketing be beneficial for the B2B communication? But this is what is possible when you can expand your horizon by stepping into the newer digital age of developing business. We will be talking about how B2B social media marketing can change your way of thinking & how it can be enhanced by joining hands with us, Shamoor, the leading social media marketing company of Delhi.
How helpful is B2B social media marketing?
Here we will talk about the various benefits that you can acquire which will help you build stronger connections & survive efficiently in this market full of competition. The following are some of the advantages we consider by going as the title of the best social media marketing agency of Delhi which can really make your business grow into a giant:
Engagement on social media with the customers can really boost your businesses' growth as people nowadays find it more convenient having a conversation over social media, so why not take this opportunity to your advantage?
Increase your brand awareness by having your product advertised on social media which does have a positive impact on the general public all over the world & helping your business be the center of attraction.
Creating traffic for your services is another benefit of using social media by making people visit your website & check with the services which you provide more concentration of attention towards your business which in turn will help you grow & experience a better B2B interaction.
Showcasing your partners a benefit you acquire as a part of your successful campaign over the social media platforms which will make you popular among other players in your market & the social media marketing companies focuses more of providing you the opportunity of acquiring this benefit.
Monitoring your competitors is another thing which you can be benefitted by indulging in B2B social media marketing in which you could analyze their strategies & you can work on your approach of handling the public to have a beneficial B2B contact.
These are some of the benefits you can count by getting involved in the process of B2B social media marketing.
Some tips for an effective B2B social media marketing
Often you will get into B2B social media marketing using strategies of own but there are some things which you have to keep in mind while working out on the plan which is as given below:
An effective time has to be spent while crafting you matter & social media campaigns as this is the matter visible to the public, so it better be the best to see.
You have to be specific on mentioning the business objectives as by having a B2B social media marketing, you cannot rely upon overturns then getting on to the points.
Just have yourself get into the social media platforms which are suitable for your audience, not all platforms are the best fit to make yourself popular.
Carefully monitor the changes which happen & mark the constant progress made by your campaigns which will be beneficial to mark you ROI.
These are some things when kept in mind can be useful for you to get your business grow to greater heights. But by engaging with us, joining hands with us, you can expect to receive experienced service taking care of all the other things in social media marketing. Shamoor has been known as the leading social media marketing company in Delhi which will make you an industry icon developing more relations over the social media platforms with the customers, hence get you the best B2B social media marketing.