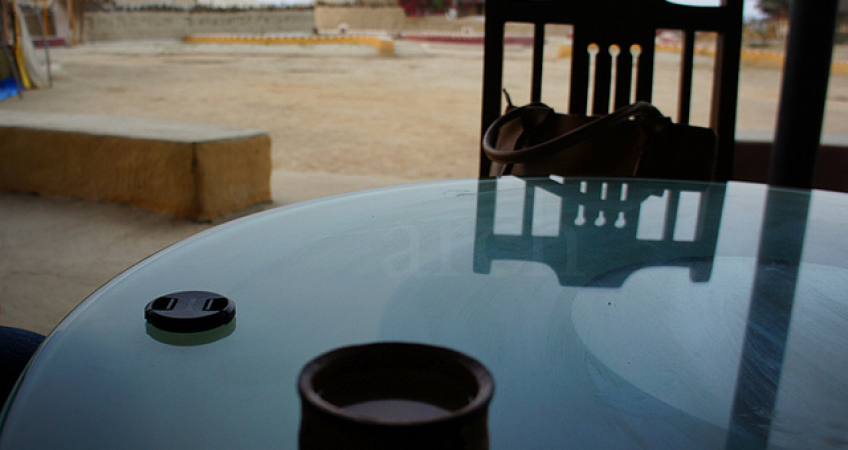 A heritage walk to Rann of Kuchhch
Written by Sakshi Kocher
Situé in the Banni grasslands, on the edges of glorious Rann of Kachchh, Gujarat: The Hodka Village which got its derivation from a Guajarati word 'Hodi' meaning 'boat'. It is believed that 300 years ago, this village was inhabited by Haleopotra Clan. This village is dominant amongst the 46 villages which dots the grassland of Banni and is chosen as one of the centres of 'rural tourism' by Indian Government under the Endogenous Tourism scheme.
The prominent feature of this village are the Mud Huts or locally known as the Bhungas, its thick walls are made out of the mud or mati, an elementary element of this village, which will keep you cool in the summer and warm in the winters. The thatched roof protects the walls of the huts which are exquisitely painted from inside along with this you can also see the art of the women in the light of the walls which are decorated with mirror work depicting different motifs. Other eeye-catchers in this village are the colourful attires of the people and the rich and cultured background of this heritage.
Discovering the Heritage
As Gujarat shows its true splendours in the winters so the best time to visit this rich cultured village is from October to February end. To have more enriching and lively experience of this village accommodate yourself in the Sham a Sarhad Rural Resort which is open from 15th October to 31st March. You can reach this place via plane; nearest airport is Ahmadabad, sleep over buses and trains are also an option.  Now when you listen the word 'resort'you  picture yourself  in the most lavish and luxurious state but hang on people your  imagination is on the wrong track because Sham a Sarhad Rural Resort is not a lavish place in fact it is staffed and run by villagers but  hey  promise you to give memorable days of your life and a different experience in all.
Mud is the predominant part of this resort. The lobby area, its sitting, dining area ant the most fascinated feature The Bhungas- everything is just made out of mud. A traditional door to welcome you inside your room is decorated with mirrors. As you go inside exploring your room you will find things like mud cot, mud seating, deep red cushions, wooden dresser, pink mosquito netting, electric fan, wide French windows and high roofs.
Now sit back and imagine yourself having an alluring and authentic retread of Hodka which is complimented by an unique experience hosted by the local community of this resort.
Hodka art and craft
Alluring with their creations is the fascinating skill of the Hodka people.  Embroidery and leather work, wood work, lacquer work, copper bells, rogaan work on clothes, block printing and weaving are some of the remarkable craftwork for which makes this place a worth visiting to. Their family tradition is to train every girl with immense artistic works like making mojadis (footwear), hand fans, mirrors, wall pieces and belts.  Also every Bhunga is different from other in terms of designs and patterns which is again a skill of Hodka women.
Local people and their lives
Cattle rearing is the popular occupation along with coal making and breeding through which Hodka men spend their time and 'Maldharis' is the term which define these people. Women spend their time in embroidery work, mud work and bead work.
Singing different forms of songs is also favourite amongst these people. Bheth, Vaaj, Kaafi, Aaradhi,  Dastaan  and Maulood are some examples of these forms.
The staple food of these people consists of bajro, buttermilk, milk products, jaggery and ghee.
If you want to experience the real Kutchi food you will be served with vegetarian delicacies. I recommend to tease your tongue with the tastes of  kutchi dinner consisting of  Bajra ni roti with ghee and gud followed by khichdi  khadi : one of the famous food items of Gujarati food. You will find a balanced taste in your food of chilly, sour, sweet, tangy and salty. Do not forget to taste the 'chaach' or the buttermilk to experience pure raptures of joy.
Hodka people also have festivals to enjoy and mind you their festivals are a great fun to celebrate. Their festivals offer an opportunity for the tourists to experience the live show of folk dances, camel safaris, musical evenings, etc.
The most prominent is the Rann Utsav. This is celebrated between the months of December and March which show casts the rich culture and diversity of this region.
Tourist's attraction
There are number of places near Hodka village which attracts tourists
The Great Rann Of Kutchchh – it is splendid with sand all over stretching to 16,000sq.km. it is the largest seasonal saline wetlands in the world which in months of October and November converts into a saline desert. It is inhabitant of species like Flamingo, Plovers, Stints, Tuffed Porchards, Black Stork, Terns, etc.
This also becomes a place for bird watching and also to have an opportunity to see Indo-Pak border.
Pachcham Island – surrounded by the saline Rann from the three sides and Banni from the south it has an island like appearance.
Bannis Biodiversity – Asia's biggest and largest grassland which is the place for 300 species of birds including the migratory birds.
Setting sun –do not miss out the opportunity of seeing the dawn in Bhuj which bathes the landscape in golden radiance which even subdues the Rann in the light if setting sun.